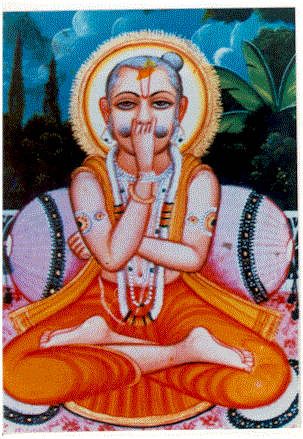 `PRAVACHAN FOR SHRI VITHALNATHJI(GUSAINJI)HISTORY AND PRINCIPLES.
IT IS THE LAST DAY OF THE 20TH CENTURY AND IS ALSO THE BIRTHDAY OF SHRI GUSAINJI AND SO I AM GREETING ALL THE VASHNAV ALL OVER THE WORLD.
THERE IS A VERY BEUTIFUL PLACE NAMED CHARNAT SOMEWHAT FAR FROM KASHI,AND THERE EXISTS A MOUNT NAMED CHARNADRI. IT IS CALLED AADHIDEVIK(ALAOKIK)VRINDAVAN.IN SUCH AN ALAOKIK, PAVITRA AND CALM PLACE,IN THE YEAR OF VIKRAM SAMVAT 1572 MAGSHAR VAD NOM(9) AND ON THE DAY OF FRIDAY IN THE AFTERNOON DURING THE HAST NAKSHATRA AND SHOBHAN YOG THERE WAS ARRIVAL OF SECOND CHILD IN THE HOME OF SHRI MAHAPRABHUJI AND WAS NAMED SHRI VITHESH PRABHUCHARAN. VITTHAL MEANS THE ONE WHO SHOWS THE PATH TO THEM WHO HAVE LOST THEIR PATH.
SHRI VITHALNATHJI SERVED SHRI NAVNITPRIYAJI AND SHRINATHJI RAAG-BHOG-AND SHRINGAAR (MUSIC AND LOVE-THE BEST THING GOD CAN UTILIZE-BEAUTY OF LIFE AND ORNAMENTS)
FOR THE HAPPINESS OF SHRINATHJI SHRI VITHALNATHJI INCREASED THE VAIBHAV OF SHRINATHJI FAIRLY. HE MADE THE VERY LARGE GAUSHALAS IN THE BASEMENT OF SHRI GIRIRAJJI. HE ALSO BUILT THE PONDS AND WELLS IN HIS NAME. HE ESTABLISHED THE VILLAGE NAMED GOPALPURA. TO LOOK OVER THE BETTER MANAGEMENT OF THE SHRINATHJI TEMPLE HE APPOINTED SHRI KRUSHNADASJI AS THE CARETAKER OF THE TEMPLE. HE APPOINTED SHRI SOORDAS, KUMBHANDAS, PARMANANDDAS, KRUSHNADAS, CHITTSWAMI, GOVINDSWAMI, CHATURBHUJDAS AND NANDDAS IN SERVICE OF GOD FOR THE ASHT SAMAY KIRTANS AND BECOMING FRUITFUL IN LIFE ADDED THE RAAG,BHOG AND SHRINGAAR IN TO SEVA.
NEW DRESSES SHRINGAAR AND SAMAGRI MADE THE REGULAR AND ANNUAL FESTIVALS TO BE SERVED IN A MORE BEAUTIFULL WAY, INTERESTING AND PERMANENT. HE HAD REESTABLISHED GOKUL AND PLACED NAVNITPRIYAJI'S SEVA THERE, AND HE HIMSELF SETTLED THERE.